7th National Annual Transplant Coordinators
Workshop, Hyderabad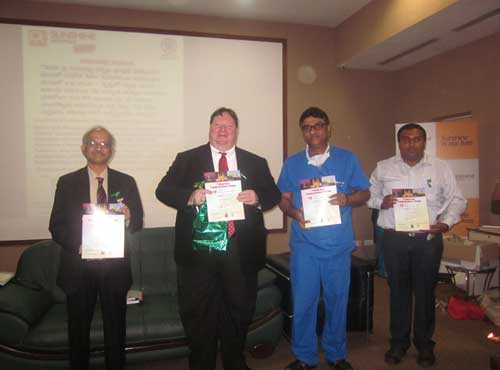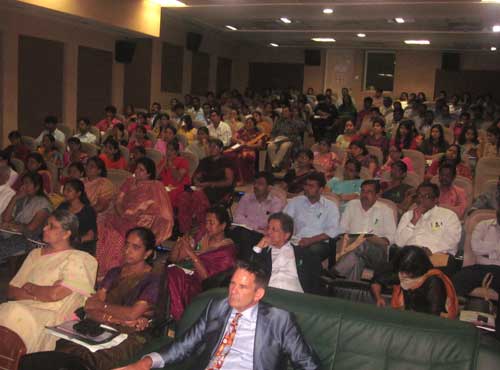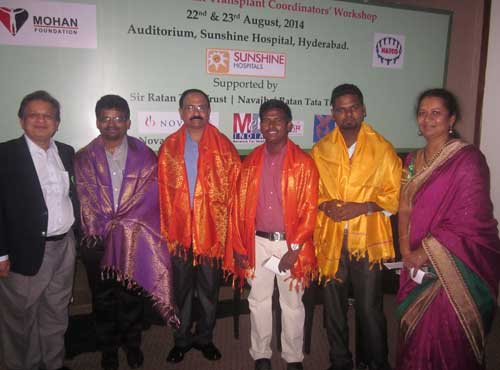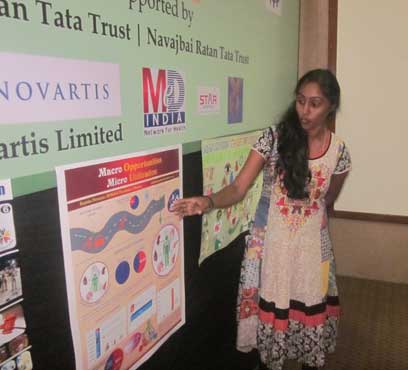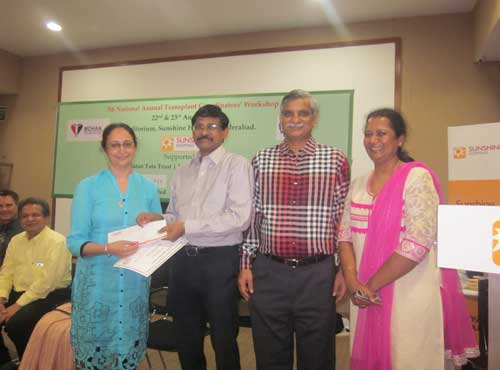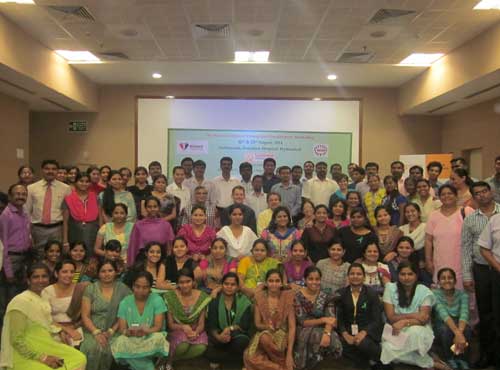 7th National Annual Transplant Coordinators' Workshop
Auditorium, Sunshine Hospitals, Hyderabad
22nd & 23rd August 2014
The 7th National Annual Transplant Coordinators' Workshop saw the participation of over 95 transplant coordinators from across the country. The two days workshop held on 22nd and 23rd August 2014 at the auditorium of Sunshine Hospitals, Hyderabad, was a grand success.
The workshop was inaugurated by US Consul General, Mr. Michael Mullins, Dr. Putta Srinivas, Director of Medical Education and Dr. Gurava Reddy, Managing Director of Sunshine Hospitals. Dr. Anuradha, Consultant Nephrologist of Sunshine Hospitals was another guest. Dr. Sunil Shroff, Managing Trustee of MOHAN Foundation presented the Welcome Address, after which the other dignitaries spoke. The Workshop Manual was released by Consul General Mullins.
The scientific program of the Workshop began with Commodore Ranbir Talwar, Executive Director of Indian Head Injury Foundation, Delhi, delivering the 3rd Swamy Narayan Oration Lecture on "Linkage between Head Injury & Road Safety". Following this, there were panel discussions from all regions of India, with excellent participation and discussions from panelists and audience.
On 23rd August, Dr. N. Sridhar, UK – Former NHSBT Regional Director of Organ Donation in the Midlands Region, UK, conducted a session on "Organ Donation – Working Together" – Best Practice Guidance and also conducted simulation workshops. Following this, Dr. Christopher Taylor Barry, of bLifeNY, USA, spoke on "Deceased organ donation in India – the way forward".
Dr. Sumana Navin, Course Director of MOHAN Foundation conducted a session on "Adopting the Transplantation of Human Organs (Amendment) Act & Rules in my State – Present status & challenges." Dr. Hemal Kanvinde conducted the session on Kaleidoscope on Organ Donation – MOHAN Foundation's website & Toll free organ donation helpline.
The Chief Guest for the Valedictory function was Dr. L. Narendranath, Director of Nizam's Institute of Medical Sciences. Dr. Anuradha, Consultant Nephrologist of Sunshine Hospitals was also present. The Swamy Narayan Best Transplant Coordinator's award was given away to Mr. S. Senthil Kumar of Government Stanley Medical College Hospital, Chennai and Dr. Muneet Kaur Sahi of MOHAN Foundation, Delhi. They each received a cash prize of Rs.5000. The Best Free paper awards were given to Mr. Akash Manohar, Project Manager, Kerala Network for Organ Sharing, Thiruvananthapuram and Mr. K. Prakash, MOHAN Foundation, Chennai. They each received a cash prize of Rs.2000. The Best poster award was jointly shared by Ms. S. Mageshwari, SIMS, Chennai and Ms. Sujatha Niranjan, MOHAN Foundation, Chennai. They each received Rs.1000.
The Workshop concluded at 4.30 pm, with feedback by some transplant coordinators.
Source-Mrs. Lalitha Raghuram