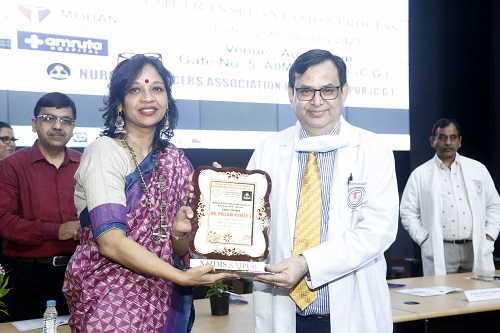 MOHAN Foundation and NATCO were invited to conduct a one-day workshop on 'Strengthening of Organ Donation & Transplantation process' at AIIMS Raipur on January 25, 2023.
The workshop was organized by the Department of Nephrology, AIIMS Raipur along with Department of Ophthalmology and the Nursing Association and saw the active participation of nurses, nursing students, paramedical staff, Transplant Coordinators of AIIMS Raipur and other private hospitals in Raipur.
Raipur has recently been able to coordinate two deceased donation cases. The successful conversion of these cases has enthused the city and AIIMS Raipur took the initiative to organize this workshop to help put systems in place to enable a robust and sustained deceased donation program in the state.
The faculty for the workshop was Dr Sunil Shroff (Managing Trustee, MOHAN Foundation), Dr Deepak Gupta (Professor Neurosurgery, AIIMS Delhi), Ms Arati Gokhale (Central Coordinator, ZTCC Pune & President NATCO), Ms Pallavi Kumar (Executive Director, MOHAN Foundation & Vice President NATCO) and Dr Amit Joshi (Dy.Medical Superintendent, Bombay Hospital, Indore, M.P & Executive Member, NATCO)
The workshop covered various topics such as the organ donation scenario in the country, the legal framework in organ donation and transplantation, brain death identification and declaration, creating awareness on organ donation, grief counseling and making the ask for organ donation, role of NOTTO/ROTTO/SOTTO in organ donation and organ allocation.
Prof (Dr) Nitin M Nagarkar, Director and CEO of AIIMS Raipur inaugurated the workshop and thanked the faculty for sharing their knowledge and experience to help energize the organ donation program in Raipur, Chhattisgarh.
Close to 400 people attended and actively participated the workshop. Read More