"Knowledge enriches and empowers" - 9th Annual Transplant Coordinators'
Conference held in Chandigarh, October 2016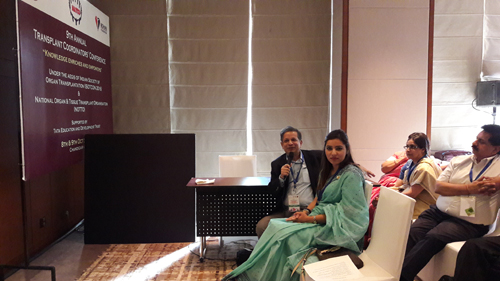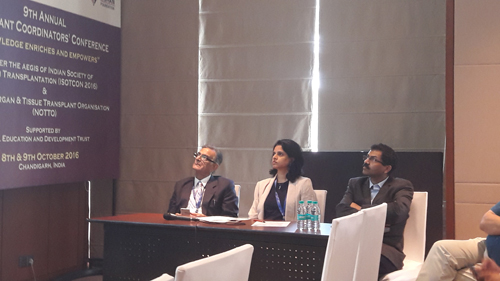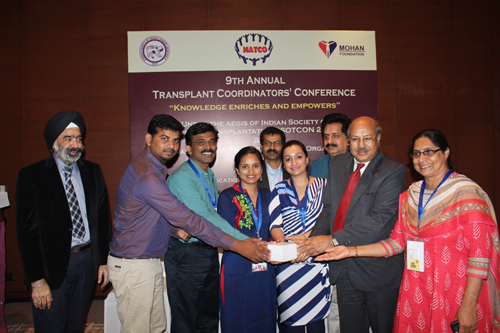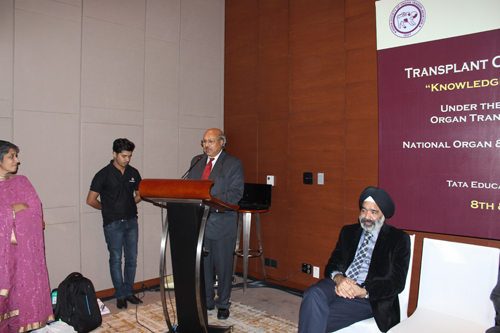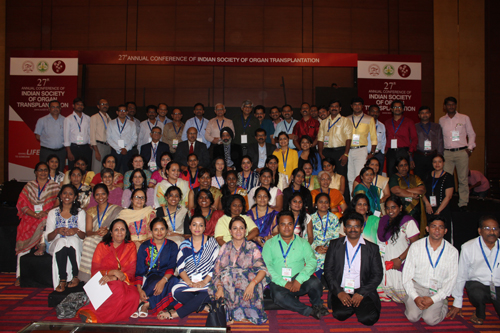 The 9th Annual Transplant Coordinators' Conference was organized by MOHAN Foundation and the National Association of Transplant Coordinators (NATCO) under the aegis of the Indian Society of Organ Transplantation (ISOT) and National Organ & Tissue Transplant Organisation (NOTTO) on 8th & 9th October, 2016 at Hotel Hyatt, Chandigarh. It was supported by the Tata Education and Development Trust.
The NATCO conference inauguration was graced by Dr. Raj Kumar Sharma, President ISOT, Dr. Narayan Prasad, Secretary, ISOT, Prof. Dr. Vimal Bhandari, Director, National Organ & Tissue Transplant Organization (NOTTO), Prof. K. L. Gupta, Chairman, ISOTCON 2016, Prof. H. S Kohli, Organizing Secretary, ISOTCON 2016, Dr. Vipin Koushal, Nodal Officer, Regional Organ & Tissue Transplant Organization (ROTTO), Chandigarh, Dr. Dale Gardiner, National Deputy Clinical Lead for Organ Donation, NHS Blood and Transplant, UK, Dr. Anil Chandraker, President, American Society of Transplantation and Dr. Sunil Shroff, Managing Trustee, MOHAN Foundation
This was followed by the Swamy Narayan Memorial Lecture by Dr. Dale Gardiner on "Achieving moral balance in organ donation – Clinical decisions". Dr. Dale Gardiner's lecture addressed many pertinent points related to the ethics of organ donation. He emphasised that talking about organ donation was part of good end of life care and that families should be given the opportunity to say 'Yes'. He said that for ICU doctors and staff a responsibility ensues because of their obligation to the patient and family under their care, that the giver can give their gift. He then went on to speak about how to practise objective ethics and developing ethics as a skills by using the moral balance, i.e., balancing out the four principles of medical ethics – Beneficence, Non-maleficence, Autonomy and Justice.
The conference covered a series of interesting topics which were presented by excellent speakers across the country. To name a few, Symposium on raising funds for transplant recipients, Ensuring relationships in living donor transplant programme – Transplant Coordinators' Role, Post transplant issues in women and children, Transplant Coordinators' dealing with stress and burnout.
The symposium on 'Raising funds for Transplant Recipients' addressed the sensitive topic of making transplants affordable and accessible. Dr. Sonal Asthana, Liver Transplant Surgeon, Aster CMI Hospital, Bangalore, said that it was not about making transplants, what we presume to be, cheap because there would still be patients who could not afford it. It was about making transplants affordable at the point of care. He felt that there was a need for more innovative funding mechanisms. Crowdfunding through Milaap had helped them garner support for paediatric liver transplants. Mr. Anoj Viswanathan, Co-founder & President, Milaap spoke about how medical needs had the highest resonance on their crowdfunding platform.
He said trust was an extremely important factor for financial donors and that Milaap undertook the verification of a campaign. Updating the donors about the campaign was equally important. Mr. Nethaji, Programme Manager,Multi-organ Transplantation, SIMS Hospital said that transplant coordinators play a key role in financial counselling and that there should be a separate session for this. He added that one of the alternative sources for funding could be transplant recipients (with affordability) who wanted to help fellow recipients or patients. Ms. Trilly Mathew, Transplant Coordinator, Fortis Memorial Research Institute explained the role of a transplant coordinator to ensure the authenticity of relationships in a living donor transplant programme. She shared some of her experiences where on close scrutiny of the documents that were given by families, she discovered that pictures were photoshopped and documents had been falsified and forged.
Delegates were given the opportunity to present their abstracts through the free paper and poster session. Ms. Sunayana Singh from ORGAN India won the Best Free Paper Award for her paper on "Transplant Guide – An Aid to Organ Transplants" along with Mr. Aneesh P V from Kerala Network for Organ Sharing for his paper on "A Study to Improvise the Transparency of Organ Allocation System in Kerala". Ms. Saryu D Madra from Post Graduate Institute of Medical Education & Research (PGIMER) was awarded the Best Poster award for her poster on "Media as a Catalyst for Community Engagement in Organ Donation". Fortis Memorial Research Institute was awarded the Best Video for Promoting Organ Donation. The awards carry a certificate and a cash prize of Rs. 2000/-.
Every year the Swamy Narayan Best Transplant Coordinators' Award is presented to transplant coordinators who excel in their profession. The award carries a certificate and a cash prize of Rs.5000/-. This year the award was shared by Mrs. Surekha Shantanu Joshi from Grant Medical Foundation Ruby Hall Clinic, Pune and Mr. Navdeep Bansal from PGIMER, Chandigarh.
93 delegates from various hospitals / institutions attended the conference.
At the Valedictory function Prof. K. L. Gupta, Prof. H. S Kohli, Dr. Narayan Prasad and Dr. Vipin Koushal congratulated the MOHAN Foundation team for conducting a successful conference.
Source-Ms. Ann Alex