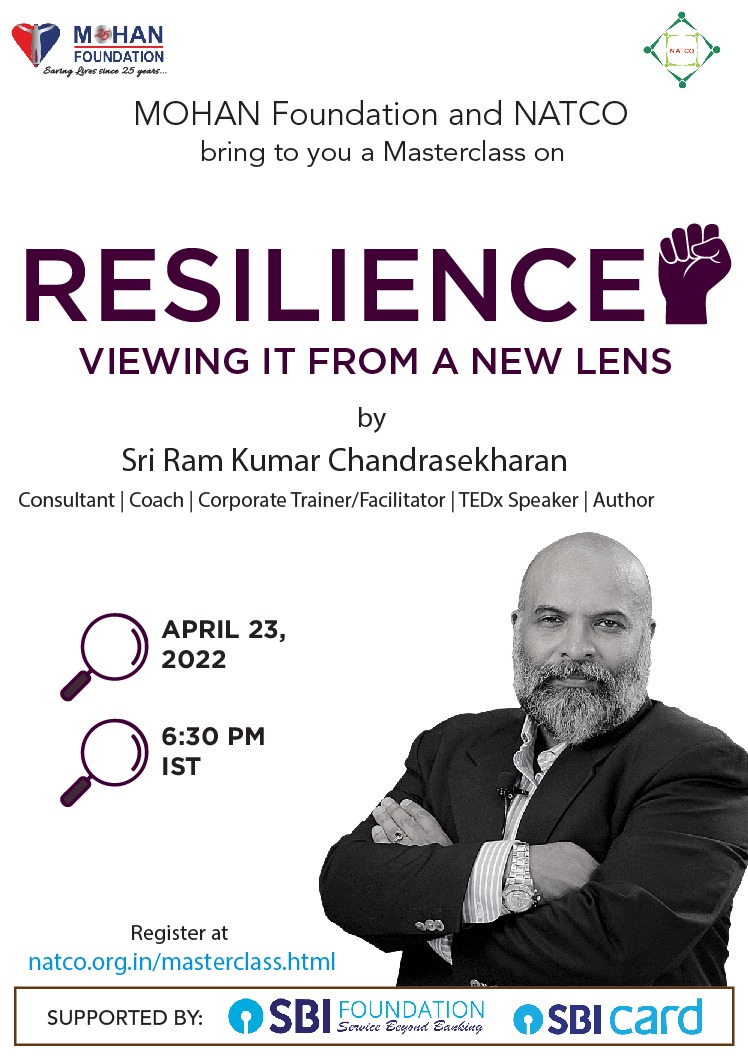 Masterclass On
Resilience
Who can participate?
Healthcare professionals (nurses, administrators, allied healthcare staff, doctors, transplant coordinators).
Certification
Participants will be Awarded a certificate of Completion
Participation is free of charge; but registration is compulsory

About the Faculty
Mr. Sri Ram Kumar Chandrasekharan
Consultant | Coach | Corporate Trainer/Facilitator | TEDx Speaker | Author
Sri Ram is a performance-driven senior management professional with 25+ years of corporate and entrepreneurial experience. He has worked with Coachees, across diverse industries and levels of experience, aiding them in problem-solving, goal setting and achievement, increasing self-esteem and confidence vis-à-vis their communication capabilities. He has designed and delivered more than 22,000 hours of Training/Facilitation interventions (offline and online) in the areas of Leadership and Team Development, Leadership Communication, Personal Branding, Executive/Leadership Presence, Presentation skills, Influencing, Negotiation, Persuasion, Relationship Management, Interpersonal Skills, Impactful Communications, Story Telling, Stakeholder Management and Team Building for clients in the Consulting (Big Four), IT, BFSI, Entertainment, Travel, Retail, Manufacturing, Pharmaceutical and Engineering industries.